TOP DOLLAR ** ALL AREAS ** FREE TOWING
SALVAGE AND JUNK CAR OR TRUCK WANTED !! CASH FOR JUNK CARS AUSTIN, TEXAS 512-789-2177
Tips for junking your car 
If you have an old useless car, there's no point in keeping it in the garage. What are you waiting for? It's not like it's going to come back to life or maybe it could, but the cost of extensive repairs simply isn't worth it. Your best option is to sell it for scraps and be done with it.  
Here are are a few things to keep in mind when you finally decide to junk the old car. 
Look for free towing 
The first step is to find a junk car buyer, and not just any junk car buyer. You want to make some profit off the old thing, right? Go online and look for a junk car buyer in your area of course call Junk Car Buyer Austin at 512-789-2177.  
You'll want a place that is not far from you, but most of all you should look for a business that offers free towing. That's very important, because some junk car buyers might charge you for this service more than it is worth it. And, of course, that cost will come out of what they're offering for your clunker.  
Describe the state of your car accurately 
When you contact Junk Car Buyer Austin, make sure you describe your old car as accurately as possible, to prevent any misunderstanding. If your car is totally wrecked, say so. On the other hand, if the car is still in working condition make sure to mention that.  Buyers are interested in still usable cars.  Other vehicles may be just for salvage and they sell the usable parts off of them. 
Be sure to send them some photos, so they know exactly what they're buying and how much they're willing to give you. If you don't, you might be in for a nasty surprise. When the pickup driver shows up, you don't want to get into an argument if they discover your car is in a worse state then they thought. 
If you provide a full description and some photos, you can be fairly certain they will pay the agreed price, no ifs and buts. 
Ask for cash or company check in hand 
That's usually the best option. If they agree to pay on pickup you can be certain they won't come up with any pretext to lower the price. Also, you don't want to waste any more time when conducting what is essentially a very simple transaction. 
Try to locate the title to the car 
Technically, you might still be able to sell the old thing even without the title but not in Texas.  You need a title to sell your car in Texas.  Look up where you can retrieve the missing title in your area and have it on hand when you contact a junkyard.  Texas regional office of DMV is the place to start.  With covid, they are requesting one make an appointment online to visit their office and get title, otherwise you can get your title online.  
Remove personal items from the car 
You wouldn't believe how many people forget such a basic thing. You don't want to have to drive down the next day to retrieve your kid's skateboard left in the trunk. Check the car thoroughly, from the glove compartment to the trunk, and don't forget to look under the chairs. 
Arrange for a convenient pickup 
This refers to both time and place. A reputable junk car buyer will offer same day or next day pickup, because sometimes people are in hurry. If that is not the case for you, pick a convenient day and time so you can go about your business without having to wait. If your wrecked car is at the mechanics, you can arrange for the pickup to take place there.  
Just make sure you're there at the appointed time, sign the papers, get your money and be done with it. Time to move on! 
HEATING SYSTEM
The heating system in your vehicle is designed to keep you warm; the engine cooling system of the vehicle is directly
linked to the heating system. If your heating system is not working properly it is important to have it checked out, because your engine cooling system may not be working properly either and an overheated engine can result in engine damage. There are a few basic components in the heating system; blower motor, heater hoses, heater core, heater control valve, and the HVACs control panel. The cooling system components that interact with the heating system are the coolant, thermostat, radiator, and water pump. 
The heating system works off of the same coolant that circulates throughout your engine. It is circulated from the radiator through a series of hoses and the heater valve into the heater core. A fan then blows the hot air into the compartment. The heater core, which is located in the dashboard of your car, is really a small radiator. The heater fan blows air through the heater core and into the passenger compartment of your car. The heater core draws its hot coolant from the cylinder head and returns it to the pump -- so the heater works regardless of whether the thermostat is open or closed. Like your engines cooling system radiator, the heater core can suffer some of the same issues. If the heater core becomes clogged with rust or sludge, you will no longer have heat. Also leaks can cause a cabin full of white steam and really mess up your windows. If you smell the sweet aroma of coolant when your heater is on, chances are, you have a small leak in the heater core. 
Often times the heater core is buried under the dashboard, and replacing it, is a major job. Many aspects of the heater system can malfunction which require repair. An air cabin filter is used to clean impurities from the air before it enters the ventilation system, when this filter becomes plugged it can slow the airflow in which case the filter needs replacement. An engine coolant leak can develop which hinders the performance of the heater system; these leaks must be repaired before proper heater operation will return. Heater system controls are adjusted by one of two ways, either a manual system is used which is adjusted by the driver, or a climate control computer.
BONDED TITES
Auto title bonds are issued to individuals or businesses in order to obtain a clear auto title that is issued by the motor vehicle department. If you lost your car title or never received it for some reason, and so you cannot register it? Then you need a bonded title. Title bond can also be known as auto title surety bond, lost title bond, defective auto title bond, and certificate of title bond. Laws about obtaining a bonded title vary by state; you can't apply for a bonded title for an abandoned vehicle. A bonded title can usually be obtained by filing with the DMV.  
A bonded title can be used as proof of ownership for registering, insuring, or selling a vehicle; it can be challenged in most states for up to three years after its issue date. Bonded titles can be used to determine ownership and can be used to prove ownership when registering a vehicle or buying automobile insurance.  Following are 4 of the more common reasons you might need a bonded title. You bought a vehicle and never received the title or bill of sale, you purchased a vehicle and only received a bill of sale, you bought a vehicle an got an improperly assigned title, received or lost your title   the main requirements for obtaining a bonded title usually include the following: 
Making a effort to acquire the original car title and any supporting documents by contacting the prior owners or relevant authorities using certified mail, Obtain the relevant forms from your local DMV. vehicle must have been purchased or received as a gift. You usually cannot file for a bonded title if the vehicle in question was abandoned. Some states might require that you pay certain taxes before you are issued a bonded title. it should be noted that a bonded title does not absolutely guarantee ownership of the vehicle and can be disputed. 
HYBRID BATTERY (IF YOURS IS NOT WORKING CALL THE JUNK CAR BUYER AUSTIN AT 512-789-2177
TOYOTA PRIUS
NISSAN LEAF
ALL HYBRID HONDA
A hybrid car battery is like any other battery except that it is rechargeable and has enough juice to move a large heavy vehicle down the road for a few feet or a few miles. The batteries in hybrid cars are responsible for the better fuel economy but the chemical material that makes up all car batteries, whether it's a conventional car or a hybrid, is typically toxic.
 Is hybrid battery expensive? In sort yes it can range from 1,000 up to 6,000 for a full hybrid battery replacement. Hybrids batteries have proven to be extremely reliable though. Most hybrid car batteries are designed to last the lifetime of the automobile. There are three major types of batteries that are considering for use in hybrid cars: lead-acid, nickel-metal hydride and lithium-ion By far, lead-acid is considered the most toxic of the three, and on top of that it's also extremely heavy. By undertaxing their batteries, hybrids ensure longer life spans. Hybrids come with software that purposely stops the battery from charging once it hits about 80 percent of full capacity. Similarly, the battery will say it's empty when it falls to about 20 percent. If hybrids do conk out early, most batteries come with an eight-year or 100,000-mile warranty. You'll notice two things when it's time for a new power pack: The engine will run almost constantly, even under light acceleration, and your fuel economy will drop off significantly. 
There are other ways to increase hybrid battery life: Coasting to a stop; like braking, coasting generates the kinetic energy that will charge your battery and extend its life, avoiding jack rabbit starts. Stopping at an intersection usually shuts down a hybrid's gas engine. As you move away from the intersection, a light press on the accelerator will keep the vehicle in all-electric mode. Replacing a hybrid car battery is a job that is best left to a professional.
ERROR CODES ON YOUR CAR TIPS.  
Two Common ERROR CODES for Cars & Trucks
02 sensor = Emissions Issue - An 02 sensor is an oxygen sensor that monitors how much oxygen is in the exhaust stream. The sensor informs the engine computer to adjust the air-to-fuel ratio, thus keeping the catalytic converter running in an efficient manner. 
Cat: catalytic Converter = Emissions Issue - Catalytic Converters came about in the 1975 era and are utilized to reduce the type of emissions cars produce from toxic fumes to 98% non-toxic fumes. (Some vehicles require a dual converter system vs. single and can be costly to repair.
SELL YOUR CAR TO JUNK CAR AUSTIN IN THESE EXPANDED AREAS.  WE BUY ALL JUNK, SCRAP, SALVAGE, USED VEHICLES IN OUR EXPANDED AREA.
Austin
Bastrop
Georgetown
Round Rock
Leander
Cedar Park
Del Valle
Cedar Creek
Lago Vista
Jonestown 
Lake Travis
Lockhart
Kyle
Buda
Smithville
Manor
Elgin
Pflugerville
Hutto
Killeen
Harker Heights
Belton
Temple
Salado
Taylor
San Marcos
Spicewood
Copperas Cove
Jarrell
Liberty Hill
Lakeway
Highland Lake Estates
Cedar Creek
Giddings
La Grange
New Braunfels
Dale
Fort Hood
Driftwood
Dripping Springs
Lake Travis
Jonestown
Johnson City
We cover a lot of South Central Texas !!
JUNK CAR AUSTIN - CASH FOR CARS 512-789-2177
We offer the best junk car prices and fastest service of any of our competition in the  Austin area.  We serve all neighboring towns with removal of all unwanted cars trucks and van.  We offer free towing and we even tow wrecked vehicles.
Selling your car can be a stressful time but we make it as easy as 1 2 3.  First call us at 512-789-2177 and we will ask you a few questions then give you a fast quote on the phone for the best possible price of your vehicle and offer you free towing and junk car removal.  You don't have to wait for the money in the mail, our drivers have the money with them at time of pickup.  You get paid as soon as you our driver arrives.  Most mechanics these days charge an arm and and a leg for fixing cars and a car becomes a salvage car when the price of repairs is higher than the car is worth. 
We love to give you top dollar on wrecked cars as sometimes the engines and transmissions are still good and can be reused.  This will make your bottom line better when selling a wrecked car, truck or van to us.
We can handle any type of towing and auto wrecking service, even if it is sitting on the side of the road.  We have a very large towing capacity and can tow as many as 50 cars a day with no problem.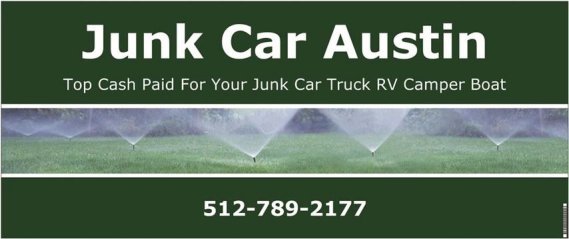 What's the deal with titles?  
When people call me at Junk Car Buyer Austin one of the first questions I ask is, "Do you have a title?"   This is very important.   A title to a vehicle is like a deed to a house.  It proves ownership of the the vehicle and is used to record liens or loans made upon that vehicle.  So one must have what they call a clear title which means they own the car and there are no loans against it.  No one wants to buy a car with an unpaid loan on it, just as you would not buy at house for full salvage price, thinking you own it free and clear, when there is a bank that actually has an ownership interest in it.
So when you call me and I ask, "Do you have a Title?" and the answer is "No" then a few questions pop into my mind.  Is this car stolen? Is their a lien or title loan on this car?  Is this property to be divided in a divorce or estate or settlement? So, here I will provide you with information to get a replacement title or directions to get the title ready to sell the vehicle.  A great starting point is http://www.txdmv.gov  They can answer all the question on the title paperwork needed.  
A replacement for a lost title takes as little a about six dollars and your id at the Department of Motor Vehicles and you get one the same day.  If you do it buy mail it may take three weeks.  
Another thing to do before you sell your car is to get the liens released and then get a new clean title so it will be easy and fast to sell your car for top dollar, of course to us at Junk Car Buyer Austin.  
Here is a copy from the Department of Motor Vehicles in Texas.  This is a public service message.
Source:  Texas Department of Motor Vehicles - Austin, Texas 
"If a title is misplaced, you can get a certified copy by following the steps below. If a lien is recorded, the lienholder should complete the 
application
 for certified copy of title. There is a 30-day waiting period to apply for a duplicate title after the last one was issued.
By Mail
Complete a certified copy of title application.
Enclose a copy of the owner's valid photo ID and $2 mail-in fee by check, cashier's check or money order (no cash accepted) payable to the Texas Department of Motor Vehicles. An agent of the owner or lienholder must also provide a letter of signature authority on original letterhead, a business card or a copy of the agent's employee ID.
Mail the application to your vehicle titles and registration regional service center.
In Person
Visit the nearest vehicle titles and registration regional service center.
Complete a certified copy of title application.
Provide a valid photo ID and $5.45 fee by check, cash or money order (no debit or credit card accepted). An agent of the owner or lienholder must also provide a letter of signature authority on original letterhead, a business card or a copy of the agent's employee ID.
Valid Photo Identification
Acceptable photo IDs include current state or U.S. Government issued photo IDs, such as Texas or other state driver license, identification card, U.S. passport or military identification.
Power of Attorney
a photo ID of recorded owner/lienholder signing the power of attorney, and
a photo ID of the person signing the application.
: Businesses given power of attorney are required to provide a letter of signature authority on original letterhead, business card or a copy of employee ID.If you have other questions regarding lost or destroyed titles, read our  or call us at (888) 368-4689 and (512) 465-3000."
Thank you for having your clear title ready when you call Junk Car Buyer Austin for the Fastest Service and Best Possible Price.  Then we can Pick it Up Today !!
/