Shopping Cart
Your Cart is Empty
There was an error with PayPal
Click here to try again
Thank you for your business!
You should be receiving an order confirmation from Paypal shortly.
Exit Shopping Cart
TOP DOLLAR ** ALL AREAS ** FREE TOWING
SALVAGE AND JUNK CAR OR TRUCK WANTED !! CASH FOR JUNK CARS AUSTIN, TEXAS 512-789-2177
PICTURES OF CARS GET BETTER PRICES !! 
IF YOU HAVE PICTURES PLEASE
TEXT YEAR MAKE MODEL PHONE NUMBER AND PICTURES TO  
 512-761-5865
EVERONE loves a good road trip.  You're cruising along the open road, singing along with Tom Petty, free as a monkey escaped from the zoo-- life is great until you glance down at your cluster and notice your temperature gauge.  You knew in theory that little needle could move, but this is the first time you've SEEN it happen. . . and it's climbing.  Panic-stricken, you pull over.  The potential of being stranded is making your free monkey feel like a lame bunny in a forest full of wolves. What's wrong with my car? 
The first step is to understand your cooling system. Cars are either liquid-cooled or air-cooled.  Air-cooled is less common and generally older.  You're more than likely dealing with liquid-cooled.  In a liquid-cooled system, a water pump circulates coolant through a thermostat that regulates the temperature of the coolant using a radiator to cool the coolant and hoses to carry coolant through the engine and heater core.  Are you getting that coolant is a big deal? This is your first step.  Pop the hood and look at your coolant reservoir.  If it's empty, fill it and check for leaks.  DO NOT try to fill it while it's hot and sure as heck don't open the radiator cap when it's hot.  Still have coolant in there?  What about fan?  You need the engine running to check this.  You don't need to be a master tech; stick your hand in the open space and you should feel air moving.  
Be careful when checking, this is a running engine after all.  The fan is necessary for temperature in town, but on the highway, not as much.  Imagine the wind whipping through your hair—it does the same in the engine and cools it some by default.  If it's not so breezy under the hood, the fan itself or may be bad, the radiator switch may not be telling the fan to switch on or the fan belt could be broken (keep in mind, newer cars may not have a fan belt).  Fan's okay?  And you're sure there's no puddle of coolant under the car?  Okay, keep going.  You could have a clogged radiator or your thermostat could be stuck.  A clog means coolant can't move through the engine, hence it can't cool the system.  A sticking thermostat allows coolant to move through the engine without being cooled, which doesn't do you any good blazing down the highway at 70 mph. You may need some help to identify the offending component at this point and it's not going to fix itself at the roadside, so now it's time to move.  Be nice as you go, your car is not feeling well.  Turn off your air conditioner and crank up your heat.  This will be less than amusing on your summer road trip through the New Mexico desert, but remember your cabin heater hijacks heat from the engine and will take some pressure off your car while you move toward help.  Make doubly sure you have coolant in the reservoir and try to keep moving, avoiding stop and go traffic.  Use your head here.  Watch your temperature gauge and pay attention to how your car feels.  Obviously, steam or smoke is a sign that you need to get off the road and probably out of and away from the car.  If you're not able to drive and keep the temperature down, get off the road and call a tow.  Nobody likes an $80 tow but it's much more palatable than a cracked engine block, a blown head gasket, warped cylinders—you get the idea.  
TIMING BELTS
A timing belt is the ribbed belt that is placed in a specific configuration along one side of your engine to keep the crank and camshafts timed properly basically it keeps the top half of the engine in sync with the bottom. If you have an older car from the 90s and below odds are you have a timing belt. Some new car manufacturers, such as Audi, still use timing belts in their engine designs but for longevity many manufacturers have switched to metal timing chains. It's best to replace your timing belt every 60,000 miles or every 5 years.   
A four stroke engine requires that the valves open and close once every other revolution of the crankshaft. The timing belt does this. In some engine designs the timing belt may also be used to drive other engine components such as the water pump and oil pump. Chains and gears may be more durable, rubber composite belts are quieter in their operation are less expensive, more efficient, by dint of being lighter, when compared with a gear or chain system. 
An Indicator that the timing chain may need to be replaced includes a rattling noise from the front of the engine. The usual failure modes of timing belts are either stripped teeth or delamination and unraveling of the fiber cores.
WE BUY ALL WRECKED AND DAMAGED CARS TRUCKS AT 512-789-2177
PUBLIC SERVICE ANNOUNCEMENT FROM THE CAR BUYER ABOUT THE NEW CITY OF AUSTIN ORDINANCE THAT WENT INTO EFFECT JAN 1, 2015.  
http://www.austintexas.gov/handsfree
"AUSTIN is a hands-free city (now)
To avoid fines up to $500, put your phone away or consider using a hands-free system such as Bluetooth or headphones, or an affixed GPS system.
Austin is leading the state of Texas in the effort to refocus drivers on the task of driving. The hands-free initiative aims to increase safety by decreasing distracted driving in Austin.
The Law – Vehicles and Bikes
Hand-held cell phone use is permitted in the event of an emergency such calling 9-1-1 or 3-1-1 to report a crime or an accident. Even in an emergency situation, it is best to pull over and come to a complete stop before using or operating any mobile or hand-held device.
A driver of a motor vehicle may not use a phone, tablet, or other device to view, send, or compose an electronic message while moving, per existing 
City of Austin Ordinance No. 20091022-028
 and 
Ordinance No.  20091217-090
. This law is commonly known as the texting-while-driving ban. Drivers may use their device to send messages while at a complete stop.
• Texting
• Using a cell phone for any reason
• Eating and drinking
• Talking to passengers
• Grooming
• Reading, including maps
• Using a navigation system
• Watching a video
• Adjusting a radio, CD player or MP3 Player
The City of Austin urges you to focus on the road, the rest can wait."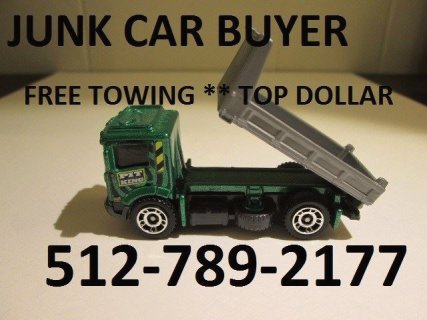 HERE IS OUR NEWEST LOGO AND A LITTLE FUN SHOT THAT WE TOOK AT THE OFFICE.  OUR REAL TOW TRUCKS ARE MUCH BIGGER AND WILL BE ON THE WAY TO PICKUP YOUR DAMAGED WRECKED OR BROKEN DOWN VEHICLE IN AUSITN TX AND ALL SURROUNDING AREAS.  GIVE US A CALL WITH YOUR DAMAGED VEHICLE EVEN IF IT IS JUST DESTINED FOR THE SALVAGE YARD OR IF IT IS NEWER AND JUST A BLOWN HEAD GASKET WE BUY THEM ALL.   512-789-2177
Tire Maintenance
--            In order to maintain a safe ride, vehicle owners must maintain their tires.  There are             several steps you can take to maintain your tires. 
·       Rotation and balance should be done every 6 months or 6,000 miles to ensure that the tires wear evenly.
Check tire pressure regularly. Compare the measured psi to the psi found on the sticker inside the driver's door of your vehicle or in owner's manual.  (Adjust air accordingly.
Tread and puncture checks:  Check your tires for wear and 
          damage by inspecting each tire for nails, minor wear, etc...                   Tread checks are easily done using a penny as a guide. Grab                    the penny and hold it with Abe Lincoln's head center and                        downward, place the penny in between the treads and if the          penny goes below Abe's head, it's time to replace the tire.

   


JUST ANOTHER CAR TIP FROM JUNK CAR BUYER AUSTIN !! 




IF YOU HAVE A CAR THAT IS NOT RUNNING WITH FLAT TIRES WE HAVE THE PROFESSIONAL TOW TRUCKS CALLED ROLL BACKS THAT CAN PICKUP ANY  VEHICLE AT 512-789-2177

Spring Cleaning for Vehicle Owners

Time to do some Spring cleaning on your vehicle.  I recommend
detailing your vehicle and cleaning carpets once a Season to make sure
they retain their original color and to remove stains that build up.
If you're like me, you're too busy to deal with shampooing carpets.
Car Washes, Dealerships and Oil Change places offer deals on detail
cleaning.  I look out for deals on Groupon and other money saving
websites to save some bucks.

Don't forget to have your fluids, tire pressure and belts checked for
the warmer weather that is sure to come our way.  Enjoy your first day of Spring!

WHAT IS A TITLE




Out of State title: A title from another state that is signed and clear.

Salvage title: A title that has been deemed a total loss by an
Insurance company.

Clear title: A title that has never been in any accident and has no
liens on it from a loan company or previous owner.

Rebuilt title: A title that was a salvage title and someone fixed the
car making it driveable or repairing prior damages and have receipts
showing purchases of parts.

JUNK CAR BUYER AUSTIN SAYS - DO NOT TEXT AND DRIVE AND OTHER TIPS TO AVOID TURNING YOUR VEHICLE INTO A  SALVAGE JUNKER.




Sure we love to help the public get rid of  their unwanted cars, trucks, vans, and suv's.  However, we would rather get them from just being old and rusty than from a Text and Driving accident.  As a public service announcement we say, Please Do Not Text and Drive.  I am sure you have seen all the ads out there of how it takes your eyes off the road and can lead to serious injury and also can put you car in a tow yard before you can say anything.  We would rather offer free towing on a car that is an old rust bucket.




If you do not have full coverage your vehicle can be turned into only a fraction of its current value by carelessness.




We get a lot of vehicles with Blown Head Gaskets, after a little research make sure your cooling system is working properly.  The key to not getting a Blown Head Gasket is make sure your vehicle does not over heat.  Believe it or not it is actually recommended that you change your cooling fluid every two years.   Since the engine is the heart of your car it is also the most valuable part to keep in tip top shape.




A lot of vehicles that we help take off the road are from front end accidents.  Please keep you eyes on the road, do not tail gate and keep a safe braking distance from the vehicles in front of you. 




Try at all costs to not drive in Fog.





Change your oil and make sure there is enough oil in your vehicle.  A seized engine is one fast way to get your car into the salvage yard.




Keep your tires at proper pressure and make sure they are not a road hazard.  Loss of control on a blow out is a way to get your car in an impound lot.




Obey all traffic laws as they are there to keep your car on the road.




These are just a few tips as Junk Car Buyer Austin's Public Service Announcement.




Thank you and may you have many miles of safe and happy driving.  













SELL YOUR CAR TO JUNK CAR AUSTIN IN THESE EXPANDED AREAS.  WE BUY ALL JUNK, SCRAP, SALVAGE, USED VEHICLES IN OUR EXPANDED AREA.




Austin

Bastrop

Georgetown

Round Rock

Leander

Cedar Park

Del Valle

Cedar Creek

Lago Vista

Jonestown 

Lake Travis

Lockhart

Kyle

Buda

Smithville

Manor

Elgin

Pflugerville

Hutto

Killeen

Harker Heights

Belton

Temple

Salado

Taylor

San Marcos

Spicewood

Copperas Cove

Jarrell

Liberty Hill

Lakeway

Highland Lake Estates

Cedar Creek

Giddings

La Grange

New Braunfels

Dale

Fort Hood

Driftwood

Dripping Springs

Lake Travis

Jonestown

Johnson City




We cover a lot of South Central Texas !!










0

/