Shopping Cart
Your Cart is Empty
There was an error with PayPal
Click here to try again
Thank you for your business!
You should be receiving an order confirmation from Paypal shortly.
Exit Shopping Cart
TOP DOLLAR ** ALL AREAS ** FREE TOWING
SALVAGE AND JUNK CAR OR TRUCK WANTED !! CASH FOR JUNK CARS AUSTIN, TEXAS 512-789-2177
CAR SUSPENSION 
The job of a car suspension is to maximize the friction between the tires and the road surface, to provide steering stability with good handling and to ensure the comfort of the passengers. Suspension systems serve a dual purpose — contributing to the vehicle's road holding/handling and braking for good active safety and driving pleasure, and keeping vehicle occupants comfortable and a ride quality reasonably well isolated from road noise, bumps, and vibrations. After supporting several tons of metal year after year, eventually the shocks will wear out and suspension repair will be necessary.  
Having a bad suspension can greatly affect your ability to control the vehicle, especially when stopping or turning, so it's in your best interest not to ignore this part of auto maintenance. How do you know when it's time for suspension repair? Here are 5 sighs to look for. Car rides rough, drifting or pulling during turns, dips or nose dives when stopping, uneven tire tread, damage oily shocks. Any four wheel vehicle needs suspension for both the front wheels and the rear suspension, but in two wheel drive vehicles these can be very different configuration.  The design of front and rear suspension of a car may be different. In its most basic form, suspension consists of two basic components: Springs and shock absorbers. Springs come in three types; they are coil springs, torsion bars and leaf springs. Shock absorbers dampen the vertical motion induced by driving your car along a rough surface and so should technically be referred to by their proper name - dampers. 
If your car only had springs, it would boat and wallow along the road. Shock absorbers perform two functions. They absorb any larger-than-average bumps in the road so that the upward velocity of the wheel over the bump isn't transmitted to the car chassis. But secondly, they keep the suspension at as full a travel as possible for the given road conditions.
HYBRID BATTERY (IF YOURS IS NOT WORKING CALL THE JUNK CAR BUYER AUSTIN AT 512-789-2177
TOYOTA PRIUS
NISSAN LEAF
ALL HYBRID HONDA
A hybrid car battery is like any other battery except that it is rechargeable and has enough juice to move a large heavy vehicle down the road for a few feet or a few miles. The batteries in hybrid cars are responsible for the better fuel economy but the chemical material that makes up all car batteries, whether it's a conventional car or a hybrid, is typically toxic.
 Is hybrid battery expensive? In sort yes it can range from 1,000 up to 6,000 for a full hybrid battery replacement. Hybrids batteries have proven to be extremely reliable though. Most hybrid car batteries are designed to last the lifetime of the automobile. There are three major types of batteries that are considering for use in hybrid cars: lead-acid, nickel-metal hydride and lithium-ion By far, lead-acid is considered the most toxic of the three, and on top of that it's also extremely heavy. By undertaxing their batteries, hybrids ensure longer life spans. Hybrids come with software that purposely stops the battery from charging once it hits about 80 percent of full capacity. Similarly, the battery will say it's empty when it falls to about 20 percent. If hybrids do conk out early, most batteries come with an eight-year or 100,000-mile warranty. You'll notice two things when it's time for a new power pack: The engine will run almost constantly, even under light acceleration, and your fuel economy will drop off significantly. 
There are other ways to increase hybrid battery life: Coasting to a stop; like braking, coasting generates the kinetic energy that will charge your battery and extend its life, avoiding jack rabbit starts. Stopping at an intersection usually shuts down a hybrid's gas engine. As you move away from the intersection, a light press on the accelerator will keep the vehicle in all-electric mode. Replacing a hybrid car battery is a job that is best left to a professional.
512-789-2177 AUSTIN AUTO BUYER - SELL MY JUNK CAR 
IF YOUR CAR IS DIAGNOSED WITH A BAD FREEZE PLUG HERE IS SOME INFORMATION ON THE SUBJECT.  
What is a Freeze Plug?
A freeze plug or expansion plug is located in the side of an engine block that is supposed to protect the block against damage due to freeze. Frozen water inside the engine block can expand and crack the block which will completely ruin the motor. Freeze plugs will supposedly prevent this by popping out. However it does not work all of the time.
The Problem with Freeze Plugs?
Freeze plugs are made out of very thin metal and they rust. Running a 50/50 mix of antifreeze will help prevent this problem. However, most people don't do this. The freeze plug rusts from the inside out causing a cooling system leak.
Signs of a Bad Freeze Plug:
Most common symptom of a bad freeze plug is that your car will leak coolant. They are fairly easy to get to and some are more difficult. It just depends on the type of car. Coolant or water will either leak down the side of the engine or between the engine and transmission.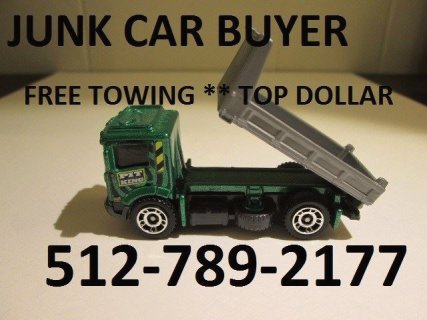 HERE IS OUR NEWEST LOGO AND A LITTLE FUN SHOT THAT WE TOOK AT THE OFFICE.  OUR REAL TOW TRUCKS ARE MUCH BIGGER AND WILL BE ON THE WAY TO PICKUP YOUR DAMAGED WRECKED OR BROKEN DOWN VEHICLE IN AUSITN TX AND ALL SURROUNDING AREAS.  GIVE US A CALL WITH YOUR DAMAGED VEHICLE EVEN IF IT IS JUST DESTINED FOR THE SALVAGE YARD OR IF IT IS NEWER AND JUST A BLOWN HEAD GASKET WE BUY THEM ALL.   512-789-2177
CREDIT :  US NEWS ONLINE. 
Head Gasket(s) Replacement (2.5L 4 Cylinder, 4WD) for the 2012 Toyota RAV4 
Repair Cost Estimate:$1964  $2692
Labor:$1730 - $2206Parts:$234 - $486Parts Needed:Engine Oil, Oil Drain Plug Gasket, Oil Filter, Coolant, Head Gasket Set, Gasket Sealer
Best Practices:
To prevent an expensive, recurring problem, the integrity of the entire cooling system should be inspected and tested when a head gasket is replaced.
During this repair, the cylinder head(s) will need to be inspected and machined. Additional repairs may be needed after the inspection, which can add several hundred dollars to the repair and are not included in the Repair estimate.
Cylinder head gasket replacement often occurs when the engine has high mileage; several additional parts may be needed during the repair. These may include cooling system components (hoses, water pump, radiator, thermostat, etc.) vacuum lines, timing belt, ignition wires, and more. These will be in addition to the Repair estimate above.
Common Symptoms:
Head gasket failures are often due to an overheated engine, but can also be caused by high mileage and/or age.
An early sign of a failing head gasket will be a rough running engine when you first start the vehicle, especially if it's been sitting overnight. The rough running will generally last for only a few seconds.
A leaking head gasket will often leak engine coolant into the oil, causing a "chocolate milk" like appearance and the oil level my be higher than normal.
Failed head gaskets can produce a white, sweet-smelling smoke from the tail pipe.
IF YOU TEXT AND DRIVE YOU WILL BE SELLING YOUR CAR FOR SCRAP TO JUNK CAR BUYER 512-789-2177 FOR TOP DOLLAR. 




Don't Text and Drive -    
Texting and driving causes wrecks and even fatal collisions. The folks at AAA have a list of state driving laws for distracted drivers.  

According to, http://drivinglaws.aaa.com/laws/distracted-driving/  "TexasThe use of a wireless communication device while driving in a school zone is prohibited unless the device is hands free. Drivers under 18 are prohibited from using a wireless communication device during the 12-month period following the issuance of an original Class A, B, or C driver's license. Passenger bus drivers transporting minor passengers are prohibited from using cell phones while driving. Drivers in El Paso are prohibited from text messaging or using a handheld cell phone while driving. Drivers in Arlington, Austin, Galveston, McAllen, Missouri City, San Antonio, and Stephenville are prohibited from texting while driving.As a junk car buyer I buy cars that are wrecked, damaged and salvaged.  Many of the vehicles that I purchase are wrecked or damaged by drivers who text and drive." 
The City of Austin passed a City Ordinance in 2009 banning texting while driving.  Kudos to the city for making effort to minimize texting and driving. 



According to http://www.txdot.gov/driver/share-road/distracted.htm "Talk. Text. Crash. - Distracted Driving CampaignHome > Driver > Share the RoadApril is National Distracted Driving Awareness Month and TxDOT is continuing our Talk. Text. Crash. campaign to raise awareness of the dangers associated with distracted driving and to encourage Texans to put down their cell phones while driving.
Distracted driving, which includes distraction, driver inattention or cell‐phone use, is becoming increasingly common and dangerous, causing traffic crashes and fatalities. In 2012, there were 90,378 traffic crashes in Texas that involved distracted driving. These crashes resulted in 18,468 serious injuries and 453 deaths. In fact, nearly one in four crashes in Texas involves driver distraction.Although cell phone use is the most easily recognized distractions, all in-vehicle distractions are unsafe and can cause crashes or fatalities. TxDOT calls on all Texans to focus on the road and wait until arriving at their destinations to conduct non-driving activities.




According to http://www.dailytexanonline.com/news/2013/04/08/in-the-midst-of-distractive-driving-awareness-month-almost-half-of-commuters-said"Despite knowing the risks of distracted driving, a growing number of legal-aged drivers are texting while behind the wheel of a moving vechicle. A recent AT&T Inc. poll revealed that nearly half of commuters texted while they drove a vehicle, 43 percent of whom called it a "habit." The poll was released at the start of April, which is Distractive Driving Awareness Month."
Please keep your eyes on the road while driving.  My goal as a junk car buyer is to purchase vehicles that you no longer want or need."  


If you find yourself looking outside and staring at your old-faithful car in the driveway and feel the need to finally get rid of it,  you are not alone.

There are a few things you need to know about selling your junk, wrecked or salvaged car.First, make sure you have a clear title with no liens on it.  What is a clear title with no liens?  Well, simply put, it means an original or certified duplicate title with no loans or liens on it.  The title can be given with a lien release letter from the lien holder and that will work or the title itself can be signed by the lien holder as paid off and you are good to go.   In other words, make sure you have paid for the vehicle in full and have the proof in writing.  Again,  make sure that you have a lien release letter signed by the owner or dealership releasing you from any financial responsibility if your title still has an unsigned lien on it.




 Most junk car buyers will ask you to have your title and keys ready for the tow truck driver.  So, it's in your best interest to have everything ready before calling for quotes so that you will have a negotiable product for sale at the time of speaking with us.  Trying to sell a car with no title is very risky.  It is like trying to sell a house without a deed.  Who would buy a house with out a deed.  Not many people.  There is a place to get a duplicate title if you have lost yours at the Regional DMV at 1001 East Parmer here in Austin.  All you need is $5.50 your ID and the Vin Number and they will print out a new title in a matter of minutes.  Just be the person who's name is on the title and your good to go.  There is usually not a wait at that office.   And they are Regional so they work with cars titled in other Counties.  It is helpful to know what is exactly where your car is as in address.  Funny how some people get through the process of booking their car with us and then come to find out they do not know exactly where their vehicle is.  We usually help with the computer and Google in front of us to find the shop or apt address.  Also providing a back up phone number is good too as in this day and age there are so many answering machines, and phone numbers with no answering machine on it.  Our drivers do their best to reach you in a timely manner but they can not schedule a tow if they can not reach you.  




We try and pick up vehicles in the fastest manner possible.  However, we are not AAA.  There is a process to get your check written and to the driver before dispatch so that we have all our ducks in a row before we call you.  In order to save fuel and the environment, if a car is far away out drivers can at sometimes group them (our trucks can usually carry 2 cars) so as to save fuel and time.  This help also to keep our junk car prices as high as possible.  




THANK YOU VERY MUCH FOR USING JUNK CAR BUYER AUSTIN AT 512-789-2177







0

/