TOP DOLLAR ** ALL AREAS ** FREE TOWING
SALVAGE AND JUNK CAR OR TRUCK WANTED !! CASH FOR JUNK CARS AUSTIN, TEXAS 512-789-2177
BAD TRANSMISSION Solenoids  then call  JUNK CAR BUYER AUSTIN 512-789-2177
SOLENOIDS are pretty much just tightly wound metal coils.  They're used in all sorts of machines, there are many in cars used for many different things including the starter. The starter solenoid receives two currents, a large electric current from the car battery and a small electric current from the ignition switch. When the key is turned to start the car the small electric current forces the starter solenoid to close a pair of heavy contacts and that relays the large current to the starter motor. Manual transmissions use the clutch to change gears but automatic transmissions use a complicated hydraulic system, and the transmission solenoids are essential for this process. 
 There are many solenoids in the transmission with many different jobs such as the transmission shift solenoid, lockup solenoid, or transmission control solenoid.  They open or close hydraulic valves and regulate fluid flow depending on the speed. The speed sensors around the engine activate the solenoids to increase or decease the fluid flow and in turn the speed
Blown Head Gasket
BLOWN HEAD GASKET JUNK CAR BUYER AUSTIN 
512-789-2177
A head gasket is a gasket that sits between the engine block and cylinder head(s) in an internal combustion engine.The gasket itself is a mechanical seal that prevents leaks between two things joined under compression by filling the space between them.  It works similarly to a washer on a bolt.  By preventing leaks, you ensure the best compression and you keep coolant from leaking into the engine.  The head gasket in the engine has to take both hot and cold temperatures, back and forth, over and over.  Cracks and leaks are bound to happen.  The head gasket has a tough job and is the weakest link of the chain of parts that keep the combustion engine moving, so it's more likely to fail than other parts.
If a head gasket leaks or blows, it's usually not just one event that leads up to it.  Either could happen during normal driving.  The heat of the engine can gradually wear the gasket down with no major problems ever occurring.  Until it leaks or blows, however, it's hard to know if the head gasket is running out of time.  It's not something you can see looking at the engine; it's way the heck in there and can't be accessed without some major disassembly.  Other things may signal your head gasket's cry for help.  You may see coolant leak from below the exhaust, you may be losing coolant with no visible leak or noticing  bubbles in the radiator or coolant overflow tank.  The engine may smoke (this will be white smoke; if not, keep looking because your engine has another problem), the exhaust may smell sweet or the oil may look like a rancid milkshake.
So what to do if you have a head gasket problem?  It's not a cheap repair.  Let's face it, this thing sits inside the engine.  If it's a minor leak, you may be able to seal it with products available like Blue Devil or K-Seal.  Talk to a mechanic you trust to determine whether this will do the trick.  Using these products could be as simple as pouring it in and letting it move through the works as you drive or may require a drain and flush of the cooling system—either option is far cheaper than replacing the gasket itself.  Be forewarned that products like Blue Devil are meant to be permanent.  Speaking from personal experience, once it's sealed, there's no going back or getting it out or working around it.  That's generally the idea, but sometimes folks look at it as a temporary patch. 
The power steering system in your vehicle enables you to steer your vehicle in the direction you would like it to proceed. Power steering is really "power assisted"
steering. "Power assisted" steering will allow you to steer your vehicle manually when the engine is not running or if you have a failure in the power steering system which disables it.
Power steering utilizes a hydraulic pump running off a belt driven by the engine, this pump enables a small amount of fluid to be under pressure. This pressure in turn assists the steering mechanism in directing the tires as you turn the steering wheel. The power steering system typically includes a pump, power steering fluid, a pressure hose assembly, a control valve and a return line.
There are two basic types of power steering systems used on vehicles. The rack and pinion steering system and the conventional/integral steering gear system, which is also known as a recirculating ball steering system. The rack and pinion steering system is the most commonly used power steering system on todays' vehicles. The steering shaft turns a gear that moves the rack side to side, utilizing a power unit built directly onto the rack assembly. The steering gear system is generally used most often on trucks, it has a series of steel balls that act as rolling threads between the steering shaft and the rack piston. The steering wheel shaft connects to a gear assembly and a series of links and/or arms that turn the wheels to the left or right.
The best way to maintain the power steering system of your vehicle is to regularly check the power steering fluid level and condition. A low fluid runs level can cause damage to some of the components of the steering system. It is recommended to have leaks repaired if they arise, and to have the fluid flushed about every 50,000 miles to keep it clean from contaminants. This fluid is key to keeping the power steering pump, steering gear or rack and pinion assembly lubricated and is the hydraulic element of the power steering system. 
Watch for, heavy or unresponsive steering, unusual noise while turning, a shimmy or shake of the steering wheel, the steering wheel not being able to return to the "center", and fluids leaking from under car. 
BONDED TITES
Auto title bonds are issued to individuals or businesses in order to obtain a clear auto title that is issued by the motor vehicle department. If you lost your car title or never received it for some reason, and so you cannot register it? Then you need a bonded title. Title bond can also be known as auto title surety bond, lost title bond, defective auto title bond, and certificate of title bond. Laws about obtaining a bonded title vary by state; you can't apply for a bonded title for an abandoned vehicle. A bonded title can usually be obtained by filing with the DMV.  
A bonded title can be used as proof of ownership for registering, insuring, or selling a vehicle; it can be challenged in most states for up to three years after its issue date. Bonded titles can be used to determine ownership and can be used to prove ownership when registering a vehicle or buying automobile insurance.  Following are 4 of the more common reasons you might need a bonded title. You bought a vehicle and never received the title or bill of sale, you purchased a vehicle and only received a bill of sale, you bought a vehicle an got an improperly assigned title, received or lost your title   the main requirements for obtaining a bonded title usually include the following: 
Making a effort to acquire the original car title and any supporting documents by contacting the prior owners or relevant authorities using certified mail, Obtain the relevant forms from your local DMV. vehicle must have been purchased or received as a gift. You usually cannot file for a bonded title if the vehicle in question was abandoned. Some states might require that you pay certain taxes before you are issued a bonded title. it should be noted that a bonded title does not absolutely guarantee ownership of the vehicle and can be disputed. 
TIMING BELTS
A timing belt is the ribbed belt that is placed in a specific configuration along one side of your engine to keep the crank and camshafts timed properly basically it keeps the top half of the engine in sync with the bottom. If you have an older car from the 90s and below odds are you have a timing belt. Some new car manufacturers, such as Audi, still use timing belts in their engine designs but for longevity many manufacturers have switched to metal timing chains. It's best to replace your timing belt every 60,000 miles or every 5 years.   
A four stroke engine requires that the valves open and close once every other revolution of the crankshaft. The timing belt does this. In some engine designs the timing belt may also be used to drive other engine components such as the water pump and oil pump. Chains and gears may be more durable, rubber composite belts are quieter in their operation are less expensive, more efficient, by dint of being lighter, when compared with a gear or chain system. 
An Indicator that the timing chain may need to be replaced includes a rattling noise from the front of the engine. The usual failure modes of timing belts are either stripped teeth or delamination and unraveling of the fiber cores.
WHAT ARE WHEEL BEARINGS?
Wheel bearings are an important part of a vehicle's suspension system. They make sure that the wheels move smoothly and support the thrust load. It also helps lessen friction between the wheel and axle. If you notice steering issues, or hear grinding or creaking sounds or weird vibrations while driving, you need to have the suspension checked. If you do a lot of traveling, these components will get worn out sooner than most. If bad bearings go ignored, the safety of those in the car is severely compromised. Accidents can be avoided if immediate care is taken. Wheels can come off in some instances or there can be a complete lack of control of the steering wheel. Proper maintenance is imperative to ensure the safety of those in the car as well as others on the road.  
WHAT IS A SLAVE CYLINDER?
A slave cylinder is a very important part of a clutch system in a manual transmission car.  It can either be lengthened or shortened. This will push on another cylinder or changes the pressure of fluid from one place to another having an effect on a moving part like the breaks or clutch. Sometimes there's a chain of cylinders working together all commanded by the first one at the beginning of the line which is called the master cylinder. While the clutch cylinder works the gears when it's pressed is called the slave cylinder, there are many different types of slave cylinders found in different parts on the car but perform the same function. They can be found in the brake system, wheels and power steering system. 
JUNK CAR BUYER AUSTIN 512-789-2177
PUBLIC SERVICE ANNOUCEMENT
It is a good idea to get CV Joints looked at every so often, especially on older vehicles. A CV joint is what is called a Constant Velocity Joint. They are what connect the tires to the axel to be able to steer your car. Often times when they start to show signs of wear and tear, you will hear this popping sound. That's when you know it's probably time to go see a mechanic. It could be costly and pretty dangerous if it goes on being ignored.  If not taken car of your tire can freeze up causing the car not to roll.
After time the rubber boots can crack which let in road contaminants in the joint causing undue wear and tear.  It is good to check your boots.  Sometimes just the boots can be replaced without changing out the whole joint.  Sometimes when CV joints are bad it is necessary to replace the whole axle.  This is usually true with cars over 15 years old.  
So if you hear a popping noise when you hard turn right or left, say in a parking lot, you should get your CV joints checked. 
SELL MY OLD DAMAGED JUNK DEAD CAR CEDAR PARK, LEANDER, AUSTIN, ROUND ROCK, TEXAS  AT JUNK CAR BUYER AUSTIN 512-789-2177
Getting your car inspected yearly might seem like a hassle or inconvenient but the program is designed to keep you and others around you safe. Most cars will start experiencing small problems. If ignored for too long, these problems can all of a sudden cause the car to fail in disastrous ways. By getting your car inspected yearly, you can prevent these problems and keep your car safe. Otherwise, what would start off as a minor problem, can become expensive and even dangerous. 
Another benefit to having your car inspected annually is that it helps the environment. In the state of Texas cars undergo an emissions test. This is designed to monitor the amount of pollution that gets released into the air from the exhaust. If it doesn't pass this part of testing, you would have to figure out what the cause is and get it fixed. Let's face it, we all like breathing clean air. Cutting down on pollution can also help prevent major health issues in the future. Cars release carbon monoxide into the air which can cause major respiratory issues such as asthma and other environmental issues as well. That's why emissions testing is important to keep our world as clean as possible for the future.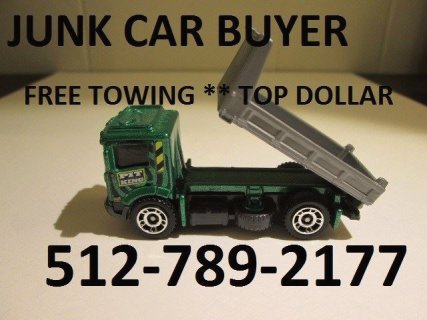 HERE IS OUR NEWEST LOGO AND A LITTLE FUN SHOT THAT WE TOOK AT THE OFFICE.  OUR REAL TOW TRUCKS ARE MUCH BIGGER AND WILL BE ON THE WAY TO PICKUP YOUR DAMAGED WRECKED OR BROKEN DOWN VEHICLE IN AUSITN TX AND ALL SURROUNDING AREAS.  GIVE US A CALL WITH YOUR DAMAGED VEHICLE EVEN IF IT IS JUST DESTINED FOR THE SALVAGE YARD OR IF IT IS NEWER AND JUST A BLOWN HEAD GASKET WE BUY THEM ALL.   512-789-2177
/