TOP DOLLAR ** ALL AREAS ** FREE TOWING
SALVAGE AND JUNK CAR OR TRUCK WANTED !! CASH FOR JUNK CARS AUSTIN, TEXAS 512-789-2177
EVERONE loves a good road trip.  You're cruising along the open road, singing along with Tom Petty, free as a monkey escaped from the zoo-- life is great until you glance down at your cluster and notice your temperature gauge.  You knew in theory that little needle could move, but this is the first time you've SEEN it happen. . . and it's climbing.  Panic-stricken, you pull over.  The potential of being stranded is making your free monkey feel like a lame bunny in a forest full of wolves. What's wrong with my car? 
The first step is to understand your cooling system. Cars are either liquid-cooled or air-cooled.  Air-cooled is less common and generally older.  You're more than likely dealing with liquid-cooled.  In a liquid-cooled system, a water pump circulates coolant through a thermostat that regulates the temperature of the coolant using a radiator to cool the coolant and hoses to carry coolant through the engine and heater core.  Are you getting that coolant is a big deal? This is your first step.  Pop the hood and look at your coolant reservoir.  If it's empty, fill it and check for leaks.  DO NOT try to fill it while it's hot and sure as heck don't open the radiator cap when it's hot.  Still have coolant in there?  What about fan?  You need the engine running to check this.  You don't need to be a master tech; stick your hand in the open space and you should feel air moving.  
Be careful when checking, this is a running engine after all.  The fan is necessary for temperature in town, but on the highway, not as much.  Imagine the wind whipping through your hair—it does the same in the engine and cools it some by default.  If it's not so breezy under the hood, the fan itself or may be bad, the radiator switch may not be telling the fan to switch on or the fan belt could be broken (keep in mind, newer cars may not have a fan belt).  Fan's okay?  And you're sure there's no puddle of coolant under the car?  Okay, keep going.  You could have a clogged radiator or your thermostat could be stuck.  A clog means coolant can't move through the engine, hence it can't cool the system.  A sticking thermostat allows coolant to move through the engine without being cooled, which doesn't do you any good blazing down the highway at 70 mph. You may need some help to identify the offending component at this point and it's not going to fix itself at the roadside, so now it's time to move.  Be nice as you go, your car is not feeling well.  Turn off your air conditioner and crank up your heat.  This will be less than amusing on your summer road trip through the New Mexico desert, but remember your cabin heater hijacks heat from the engine and will take some pressure off your car while you move toward help.  Make doubly sure you have coolant in the reservoir and try to keep moving, avoiding stop and go traffic.  Use your head here.  Watch your temperature gauge and pay attention to how your car feels.  Obviously, steam or smoke is a sign that you need to get off the road and probably out of and away from the car.  If you're not able to drive and keep the temperature down, get off the road and call a tow.  Nobody likes an $80 tow but it's much more palatable than a cracked engine block, a blown head gasket, warped cylinders—you get the idea.  
Blown Manifold
The exhaust manifold gasket helps seal the union between the exhaust manifold and the side of the engine's cylinder head. A blown exhaust gasket often protrudes from the gap between the exhaust manifold and the cylinder head.
Determining if an exhaust manifold gasket has failed is easy to do. First; SIGHT: A blown exhaust gasket often protrudes from the gap between the exhaust manifold and the cylinder head. 
Visually examine the area where the manifold and head meet, if the engine is a V-6 or V-8, compare both sides. Look for pieces of gasket that are protruding far more than the rest which will indicate the point of failure other visual sign is sooty exhaust which will stain the side of the cylinder head or manifold. SOUND: Exhaust gas and noise are expelled from the engine at a high velocity, down through the exhaust manifold and into exhaust pipes, where they pass through the catalytic converter and muffler before exiting from the tail. The event your manifold gasket is blown, the exhaust gas will escape at the seal between the manifold and cylinder head, resulting in a loud bang or pop noise each time that cylinder fires. SCENT: if strong exhaust odor is present in the engine area, inspect the exhaust gaskets to see if one or more has failed and is now allowing the untreated exhaust fumes to escape into the engine well. A cracked or broken exhaust manifold is most often caused by one of two things. The first reason is heat cycles and/or age. 
Over time, the manifolds just can't take the heat anymore and cracks begin to form in them. The second common reason for exhaust manifold failure is because of broken exhaust system hangers. In your Yearly emissions inspections, you will find that having a cracked exhaust manifold will instantly get you a rejection sticker. That's because when you have a hole in the exhaust system, it throws off the oxygen sensor readings, and will cause your vehicle to run inefficiently. You could also lose a few miles per gallon. Replacing an exhaust manifold will be a different procedure for each vehicle, so grabbing a service manual is a great start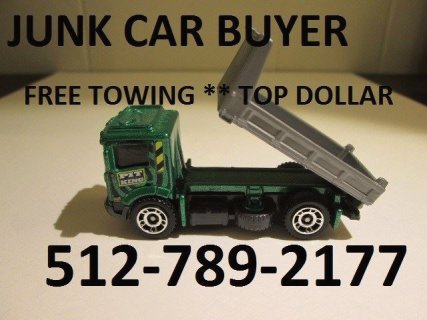 HERE IS OUR NEWEST LOGO AND A LITTLE FUN SHOT THAT WE TOOK AT THE OFFICE.  OUR REAL TOW TRUCKS ARE MUCH BIGGER AND WILL BE ON THE WAY TO PICKUP YOUR DAMAGED WRECKED OR BROKEN DOWN VEHICLE IN AUSITN TX AND ALL SURROUNDING AREAS.  GIVE US A CALL WITH YOUR DAMAGED VEHICLE EVEN IF IT IS JUST DESTINED FOR THE SALVAGE YARD OR IF IT IS NEWER AND JUST A BLOWN HEAD GASKET WE BUY THEM ALL.   512-789-2177
ERROR CODES ON YOUR CAR TIPS.  
Two Common ERROR CODES for Cars & Trucks
02 sensor = Emissions Issue - An 02 sensor is an oxygen sensor that monitors how much oxygen is in the exhaust stream. The sensor informs the engine computer to adjust the air-to-fuel ratio, thus keeping the catalytic converter running in an efficient manner. 
Cat: catalytic Converter = Emissions Issue - Catalytic Converters came about in the 1975 era and are utilized to reduce the type of emissions cars produce from toxic fumes to 98% non-toxic fumes. (Some vehicles require a dual converter system vs. single and can be costly to repair.
512-789-2177 AUSTIN JUNK CAR BUYERS IS A GREEN COMPANY DEDICATED TO RECYCLING VEHILCES.
Information from Wiki Vehicle Recycling.
Did you know that automobiles are the number one recyled product in the United States? Each year there are about 10 million vehicles are recycled. Each car weighs about 1.5 tons and for each ton recycled, we conserve 2500 pould of iron ore, 1400 pounds of coal and 120 pound of limestone. That adds up to a lot of resources saved for our great country.
Another part of recycling is the resue of spare parts. This saves the companies from having to manufacture the same parts over and over again and saves time and money and puts more money in your pocket when you buy from a junk yard. After the car is at no use and all the parts are taken off then the car goes to large scale crushing and taken to a steel mill to be refined and reused. 14 million tons of steel are provided to the steel industry each year by recycling cars, trucks, vans and suv's.
One part of recycling the vehicle is done by removing all the hazardous fluids and materials and disposing of them by state and federal guidelines and procedures. The batteris and sodium azade for the air bags and mercury are removed from the vehicle.
So, recycling save energy and natural resources for the United States. The steel industry alone saves enough energy to power 18 million households a year, each and every year. So when I turn on my lights at my house I am glad that Junk Car Buyer of Austin has provided the raw materials to keep my home lit as well as yours. Recycling keeps a lot of material out of the landfills too which is better for all of us and the enviorment. Speaking of the enivronment all the mercuy swiches from the cars have been removed from over 6000 recyclers and over 2100 pounds were collected in 2007 alone.
So yes, please recycle your car and we pay top dollar to you when you sell your auto to us and we are saving the enviorment one car at a time. Call for a free quote on your car at 512-789-2177
CREDIT :  US NEWS ONLINE. 
Head Gasket(s) Replacement (2.5L 4 Cylinder, 4WD) for the 2012 Toyota RAV4 
Repair Cost Estimate:$1964  $2692
Labor:$1730 - $2206Parts:$234 - $486Parts Needed:Engine Oil, Oil Drain Plug Gasket, Oil Filter, Coolant, Head Gasket Set, Gasket Sealer
Best Practices:
To prevent an expensive, recurring problem, the integrity of the entire cooling system should be inspected and tested when a head gasket is replaced.
During this repair, the cylinder head(s) will need to be inspected and machined. Additional repairs may be needed after the inspection, which can add several hundred dollars to the repair and are not included in the Repair estimate.
Cylinder head gasket replacement often occurs when the engine has high mileage; several additional parts may be needed during the repair. These may include cooling system components (hoses, water pump, radiator, thermostat, etc.) vacuum lines, timing belt, ignition wires, and more. These will be in addition to the Repair estimate above.
Common Symptoms:
Head gasket failures are often due to an overheated engine, but can also be caused by high mileage and/or age.
An early sign of a failing head gasket will be a rough running engine when you first start the vehicle, especially if it's been sitting overnight. The rough running will generally last for only a few seconds.
A leaking head gasket will often leak engine coolant into the oil, causing a "chocolate milk" like appearance and the oil level my be higher than normal.
Failed head gaskets can produce a white, sweet-smelling smoke from the tail pipe.
SELL CAR AUSTIN 512-789-2177 CASH FOR TRUCKS AUSTIN
BLOWN HEAD GASKET
The most common mechanical problem we receive regarding non-working vehicles is a blown head gasket.  The head gasket sits between the engine block and cylinder head in an internal combustion engine. The purpose of a head gasket is to seal the cylinders to ensure maximum compression and avoid leakage of coolant and oil into the cylinders. Power reduction and white smoke are two of the results seen when a head gasket is blown.  The biggest mistake people make is to keep driving the vehicle which increases the amount of damage to the engine.  
Why does it cost so much to fix a blow head gasket? The majority of the cost will be labor as it requires pulling the engine apart to replace the gasket. Oftentimes people call and tell us that it only cost ______ to purchase a new head gasket.  I always have to explain the depth of labor involved and that the average person does not have the tools nor the know how to replace the head gasket.
A mechanic must remove the cylinder head from the engine block to expose the head gasket.  Once exposed, the mechanic will look for damage to the head and block to determine the cause of the blown head gasket. Upon inspection, he will clean and brush the surface to remove any debris.  Then, the head gasket is replaced and the engine put back together. So, next time you purchase a vehicle, be sure to thoroughly research the pros and cons of what goes wrong mechanically with the vehicle. If you have a vehicle that has a blown-head gasket, please call us if you find out that the cost to repair the vehicle, including the labor of the mechanic,  is more than the car is worth.
Our company offers top dollar pay to you for your Junk vehicle. Call us today and we will give you a free quote on your vehicle. 512-789-2177 We are one of the largest junk car buyers in Central Texas. 
THANKS, 
/