TOP DOLLAR ** ALL AREAS ** FREE TOWING
SALVAGE AND JUNK CAR OR TRUCK WANTED !! CASH FOR JUNK CARS AUSTIN, TEXAS 512-789-2177
Blown Head Gasket
BLOWN HEAD GASKET JUNK CAR BUYER AUSTIN 
512-789-2177
A head gasket is a gasket that sits between the engine block and cylinder head(s) in an internal combustion engine.The gasket itself is a mechanical seal that prevents leaks between two things joined under compression by filling the space between them.  It works similarly to a washer on a bolt.  By preventing leaks, you ensure the best compression and you keep coolant from leaking into the engine.  The head gasket in the engine has to take both hot and cold temperatures, back and forth, over and over.  Cracks and leaks are bound to happen.  The head gasket has a tough job and is the weakest link of the chain of parts that keep the combustion engine moving, so it's more likely to fail than other parts.
If a head gasket leaks or blows, it's usually not just one event that leads up to it.  Either could happen during normal driving.  The heat of the engine can gradually wear the gasket down with no major problems ever occurring.  Until it leaks or blows, however, it's hard to know if the head gasket is running out of time.  It's not something you can see looking at the engine; it's way the heck in there and can't be accessed without some major disassembly.  Other things may signal your head gasket's cry for help.  You may see coolant leak from below the exhaust, you may be losing coolant with no visible leak or noticing  bubbles in the radiator or coolant overflow tank.  The engine may smoke (this will be white smoke; if not, keep looking because your engine has another problem), the exhaust may smell sweet or the oil may look like a rancid milkshake.
So what to do if you have a head gasket problem?  It's not a cheap repair.  Let's face it, this thing sits inside the engine.  If it's a minor leak, you may be able to seal it with products available like Blue Devil or K-Seal.  Talk to a mechanic you trust to determine whether this will do the trick.  Using these products could be as simple as pouring it in and letting it move through the works as you drive or may require a drain and flush of the cooling system—either option is far cheaper than replacing the gasket itself.  Be forewarned that products like Blue Devil are meant to be permanent.  Speaking from personal experience, once it's sealed, there's no going back or getting it out or working around it.  That's generally the idea, but sometimes folks look at it as a temporary patch.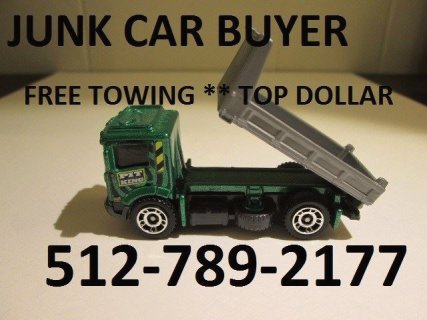 HERE IS OUR NEWEST LOGO AND A LITTLE FUN SHOT THAT WE TOOK AT THE OFFICE.  OUR REAL TOW TRUCKS ARE MUCH BIGGER AND WILL BE ON THE WAY TO PICKUP YOUR DAMAGED WRECKED OR BROKEN DOWN VEHICLE IN AUSITN TX AND ALL SURROUNDING AREAS.  GIVE US A CALL WITH YOUR DAMAGED VEHICLE EVEN IF IT IS JUST DESTINED FOR THE SALVAGE YARD OR IF IT IS NEWER AND JUST A BLOWN HEAD GASKET WE BUY THEM ALL.   512-789-2177
Common signs of a failing transmission are gears slipping, the vehicle won't go in reverse or forward and it feels unsafe to drive or you start seeing transmission fluid leaking. When this happens, it is better to take it to a repair shop or call a transmission repair shop for an estimate to repair the vehicle. A transmission is a complex series of parts of your auto and repairs costs from $1800 to $3000 to repair or rebuild the transmission. If your car is over 10 years old, you have a serious decision to make about whether to repair the vehicle or determine the mechanical failure a major loss and not worth what the vehicle is worth. It's all up to you and your financial situation at the time. If you decide to sell your vehicle to a junk car buyer, please call us at 512-789-2177 and we'll give you a quick quote and as always, we offer free towing. 
512-789-2177 JUNK CAR PRICES AUSTIN PRESENTS
Summertime Vehicle Preparation

There are several things you can do to improve the performance and safety of your vehicle.  Spring rain and the summer heat can wreak havoc on a vehicle if you aren't properly prepared.
Windshield Wipers and Fluids:
It's always a good idea to check windshield wipers year round.
Moisture and dust can prevent blades from operating when needed.  Make sure to check for worn rubber on the wiper blades and wash your vehicle regularly to prevent dusty buildup. Also, check the washer fluid reservoir to ensure there is plenty of fluid.  (Bugs, dust and other build up on the windshield can pose a safety hazard as they block your view.)
Oil and Oil Filter:
Check your vehicle manual and ask your mechanic how often you should change your oil and oil filter and what type of oil to use for  your vehicle.  In order for your vehicle to perform optimally based upon your vehicle use, check with your mechanic to find out ways to enhance your vehicle performance. Summertime heat usually means less rain and increased dusts in the air. Keep your filter from clogging by checkingit regularly.
Coolant System:
Have your mechanic check the level, condition and concentration of your coolant fluids to prevent vehicle overheating. Belts, hoses and clamps should also be checked to ensure there is no damage preventing the coolant system from working properly.
Other Important Vehicle Components:
Air and fuel filter
Brake fluid/brake pads and shoes
Power steering fluid
Tires - Check tread and sidewalls for any nicks, nails or unusual wear.
Air condition system
Battery (clean terminals)
These are just some of the things you can do to optimize your vehicles running condition in the summertime. Professional car-care centers will have a checklist that you and your mechanic can use as a guide.
These will help your Austin, Round Rock, car or truck in best running order so that you will not have to call our tow truck and buying service sooner than you need to.  If your car does fail call THE JUNK CAR BUYER FOR PRICES AT 512-789-2177

CREDIT :  US NEWS ONLINE. 
Head Gasket(s) Replacement (2.5L 4 Cylinder, 4WD) for the 2012 Toyota RAV4 
Repair Cost Estimate:$1964  $2692
Labor:$1730 - $2206Parts:$234 - $486Parts Needed:Engine Oil, Oil Drain Plug Gasket, Oil Filter, Coolant, Head Gasket Set, Gasket Sealer
Best Practices:
To prevent an expensive, recurring problem, the integrity of the entire cooling system should be inspected and tested when a head gasket is replaced.
During this repair, the cylinder head(s) will need to be inspected and machined. Additional repairs may be needed after the inspection, which can add several hundred dollars to the repair and are not included in the Repair estimate.
Cylinder head gasket replacement often occurs when the engine has high mileage; several additional parts may be needed during the repair. These may include cooling system components (hoses, water pump, radiator, thermostat, etc.) vacuum lines, timing belt, ignition wires, and more. These will be in addition to the Repair estimate above.
Common Symptoms:
Head gasket failures are often due to an overheated engine, but can also be caused by high mileage and/or age.
An early sign of a failing head gasket will be a rough running engine when you first start the vehicle, especially if it's been sitting overnight. The rough running will generally last for only a few seconds.
A leaking head gasket will often leak engine coolant into the oil, causing a "chocolate milk" like appearance and the oil level my be higher than normal.
Failed head gaskets can produce a white, sweet-smelling smoke from the tail pipe.
HIGH AUTO REPAIR AND PARTS REPLACEMENT COSTS
Your car is getting more expensive to fix, at least according to the 2013 CarMD Vehicle Health Index. The study found that for the first time in six years, the average repair cost rose 10 percent to $367.84 on 1996 to 2012 model year vehicles. Replacement part prices went up six percent in 2012, while labor charges rose 17 percent. CarMD says that the Northeast region saw the largest increase, with the cost of repairs rising by 11.56 percent last year.
Among the reasons is that our cars are getting older. The average car on America's roads is now over 11 years old. Last year's record heat may also have been a factor, according to CarMD. Heat places a strain on cooling systems, batteries, fluids and transmissions.
The costs associated with maintaining a vehicle had the single largest percentage increase from 2012 to 2013, growing by 11.26 percent to 4.97 cents per mile on average for sedan owners. AAA's estimates are based upon the cost to maintain a vehicle and perform needed repairs for five years and 75,000 miles including labor expenses, replacement part prices and the purchase of an extended warranty policy.  Driving the increase in maintenance costs is significant increases in labor and part costs for some models and a major increase in the price of extended warranty policies due to high loss ratios by underwriters.
Costly air bags, expensive electronics, and lightweight body materials are driving up the cost of fixing new cars. Not only do many more parts have to be replaced rather than repaired, but fewer and fewer body shops can afford the special equipment and training required to do the work."We're moving closer and closer to the disposable car," says Dan Bailey, an executive vice president at Carstar, the largest auto-body repair franchise in the United States.
One of the most common culprits for sending vehicle owners to the repair shop is the dreaded check-engine light. CarMD warns that the check-engine light may come on for something as simple as a loose gas cap, but regardless of its cause the alert should not go unchecked.

To meet fuel-economy requirements, automakers are using more lightweight parts. Magnesium, titanium, and carbonized plastic are among the rapidly expanding number of components found under the hood. As cars get more complicated, fewer skilled technicians to repair them. If today's cars are harder to repair, the skills needed to repair them are also harder to come by.
/