TOP DOLLAR ** ALL AREAS ** FREE TOWING
SALVAGE AND JUNK CAR OR TRUCK WANTED !! CASH FOR JUNK CARS AUSTIN, TEXAS 512-789-2177
| | |
| --- | --- |
| Posted on March 15, 2021 at 4:36 AM | |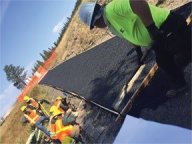 Recycled Michelin Tires Helps Yellowstone National Park Go Green
Tourists visiting Yellowstone National Park's famous geyser, "Old Faithful," will even use tires once they get out of their cars for a closer look. Old Faithful, you see, now boasts a porous, clean, flexible walkway made almost entirely of recycled Michelin tires. The "paved" surface, known as Flexi-Pave and manufactured by the company K.B. Industries (KBI), is kinder to the environment than asphalt because the permeable composite material allows for better erosion control and preservation of the natural patterns of groundwater flow. In addition, the walkway surface is highly durable and tolerant of extreme hot or cold weather, and does not leach any oil into the surrounding environment.
"The material used to create KBI's Flexi-Pave is completely benign and therefore can be used safely with the delicate aquifers here in Yellowstone," said Kevin Bragnall, CEO and founder of KBI, in a statement. The Old Faithful Walkway Project covers 6,400 square feet and includes 900 Michelin tires. "The path allows 3,000 gallons of groundwater to pass per square foot. It also is designed to diffuse the water's force, helping prevent erosion," Bagnall noted.
"The Old Faithful Walkway Project is a great example of what a difference a company devoted to sustainability can make in the world's first national park," said Karen Bates Kress, president of the Yellowstone Park Foundation, in a statement. "We are fortunate to have a corporate partner as farsighted, public-spirited and generous as Michelin," she added. Underscoring how important this project was to the 126-year-old tire company, Michelin flew in a team of employees from across the country to help complete the construction of the walkway. The 10 volunteers were winners of a company-wide contest to participate in the project.
Michelin is a major corporate sponsor of the Yellowstone Park Foundation, with a goal of helping the park curb operating expenses and reduce the consumption of raw materials. To ensure this, Michelin regularly donates and helps maintain thousands of tires for Yellowstone National Park's more than 800 vehicles, including patrol cars, garbage trucks, snow plows and load-hauling tractor trailers. The tires feature the latest in green tire technology to help save fuel and reduce emissions.
"Helping build and provide material for this new pathway is very much in line with Michelin's goal of working with the Yellowstone Park Foundation," said Leesa Owens, director of community relations for Michelin, in a statement.
 your post here.
Categories: 512-789-2177 AUTO RECYCLING AUSTIN TX JUNK CAR REMOVAL, RECYCLE CAR AUSTIN SCRAP CAR PRICES, SCRAP MY CAR AUSTIN
/